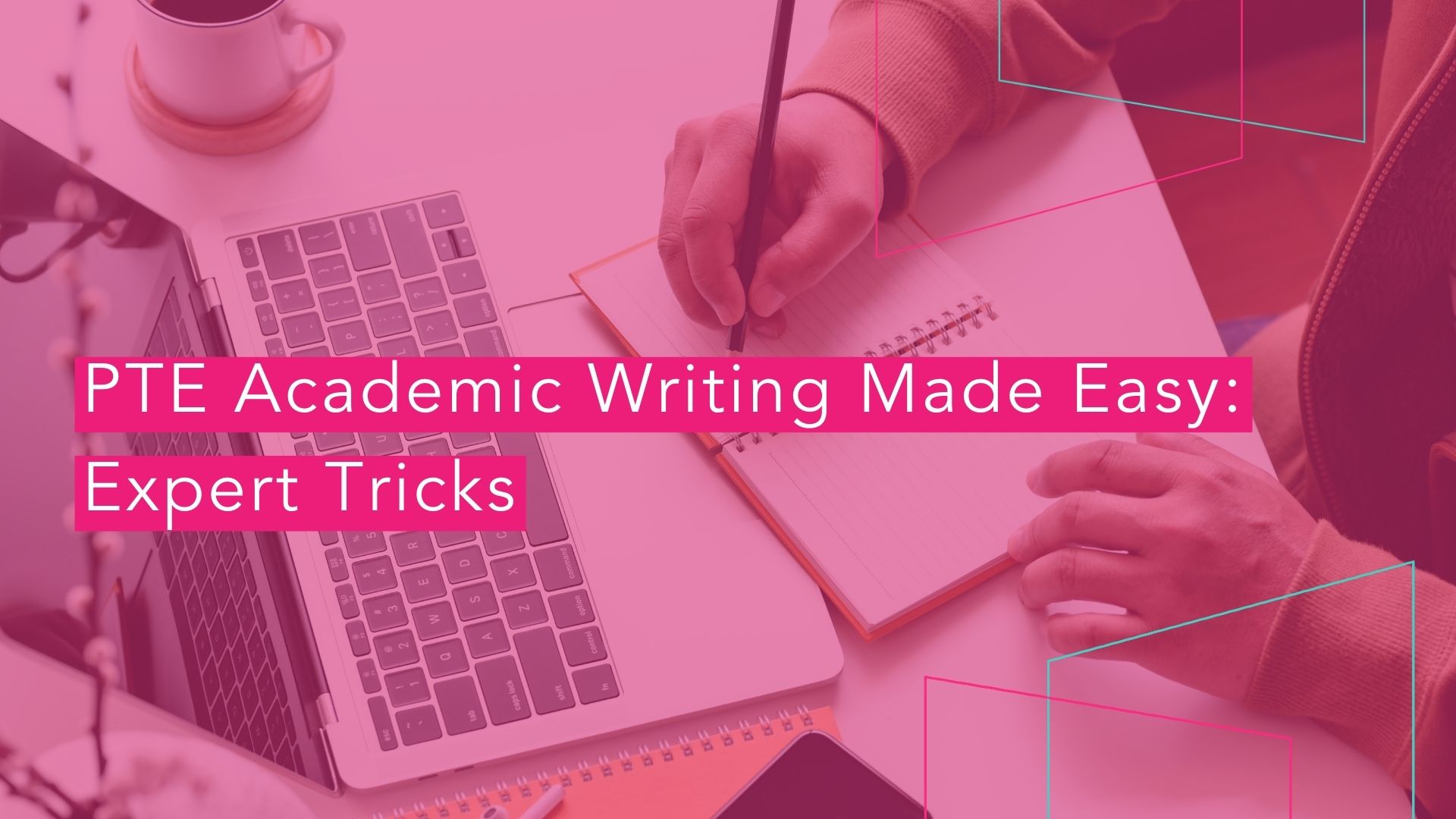 Are you new to the PTE Academic exam and feeling overwhelmed, especially when it comes to the writing section? Don't worry; you're not alone. Many test-takers find the writing section challenging. But with the right guidance and a few expert tricks, you can master it. In this article, we'll break down the PTE writing section and share valuable tips to help you succeed. 
The PTE Writing Section: A Brief Overview
The PTE Academic exam comprises three main parts: Speaking and Writing (Part 1), Reading (Part 2), and Listening (Part 3). Today, we'll focus on the Writing section, which is an essential part of the Speaking module. After completing the Speaking section, you'll transition seamlessly into the Writing test.
The PTE Writing part checks how well you can share your thoughts, opinions, and info with two main tasks. It's good to know that there are some tricks that can help you out in this section, even if you're not a pro at English or writing.
1. Summarize Written Text
Overview:

In this task, you must summarize a given passage in just one sentence.
Scoring Criteria:
– 1 point for word limit
– 2 points for spelling and grammar
– 2 points for vocabulary
– 2 points for content
Number of Questions: 1 to 2 questions
Time to Answer: 10 minutes
Word Limit: 5 to 75 words
Technique:

– Identify the passage's main topic in 3 or 4 sentences, and copy them.
– Utilize connectors like "Moreover" or "Therefore" to link your sentences together, always use them between commas.
– Remember that your answer must be a single sentence; you cannot use a period twice in your text, only at the end.
Tips:
– Stick to a 30-to-50-word limit for your summary to reduce errors.
– Dedicate two minutes to proofread your response to catch any spelling or grammar mistakes. In PTE, even a single error can cost you a point.
2. Write an Essay
Overview:
In this task, you'll be required to write an essay on a given topic.
Scoring Criteria:
– 3 points for content
– 2 points for cohesion
– 2 points for structure
– 2 points for vocabulary
– 2 points for spelling
– 2 points for grammar
– 2 points for word limit
Number of Questions: 1 to 2 questions
Time to Answer: 20 minutes
Word Limit: 200 to 300 words
Techniques:
– One effective technique is to use an essay template. A template is a pre-structured essay that you can adapt to fit the given topic. We offer templates as a part of all our preparation courses, click here to check more info about it.
Tips:
– Efficiently manage your 20 minutes with these steps:
   – 4 to 5 minutes: Type out the template.
   – 10 to 12 minutes: Complete the template, starting with the introduction and conclusion, then moving to the third paragraph (opposite idea), and finally, the first paragraph (your idea).
   – 3 to 4 minutes: Review your work for spelling and grammar errors.
Other Factors Impacting Your Writing Score
The truth is, the two tasks found in the Writing section don't have much of an impact on your section score. For those aiming for a lower score, they could even skip the essay. There are other exercises that will mostly determine your writing score; check them out:
– Fill in the Blanks (Reading and Writing)
– Summarize Spoken Text
– Fill in the blanks (Listening)
– Write from dictation
To excel in the PTE Writing section, it's crucial to practice and be prepared for all components of the exam.
In conclusion, mastering the PTE Academic Writing section is achievable with the right technique and practice. If you're looking for expert guidance and specialized help to prepare for the PTE Academic exam, consider enrolling in one of the courses offered by PTE Smart. We offer a range of preparation courses designed to meet your specific needs, along with an excellent support structure for our students.
With the right tools and expert tricks at your disposal, you can boost your confidence and performance in the PTE writing section, bringing you one step closer to your academic and career goals.