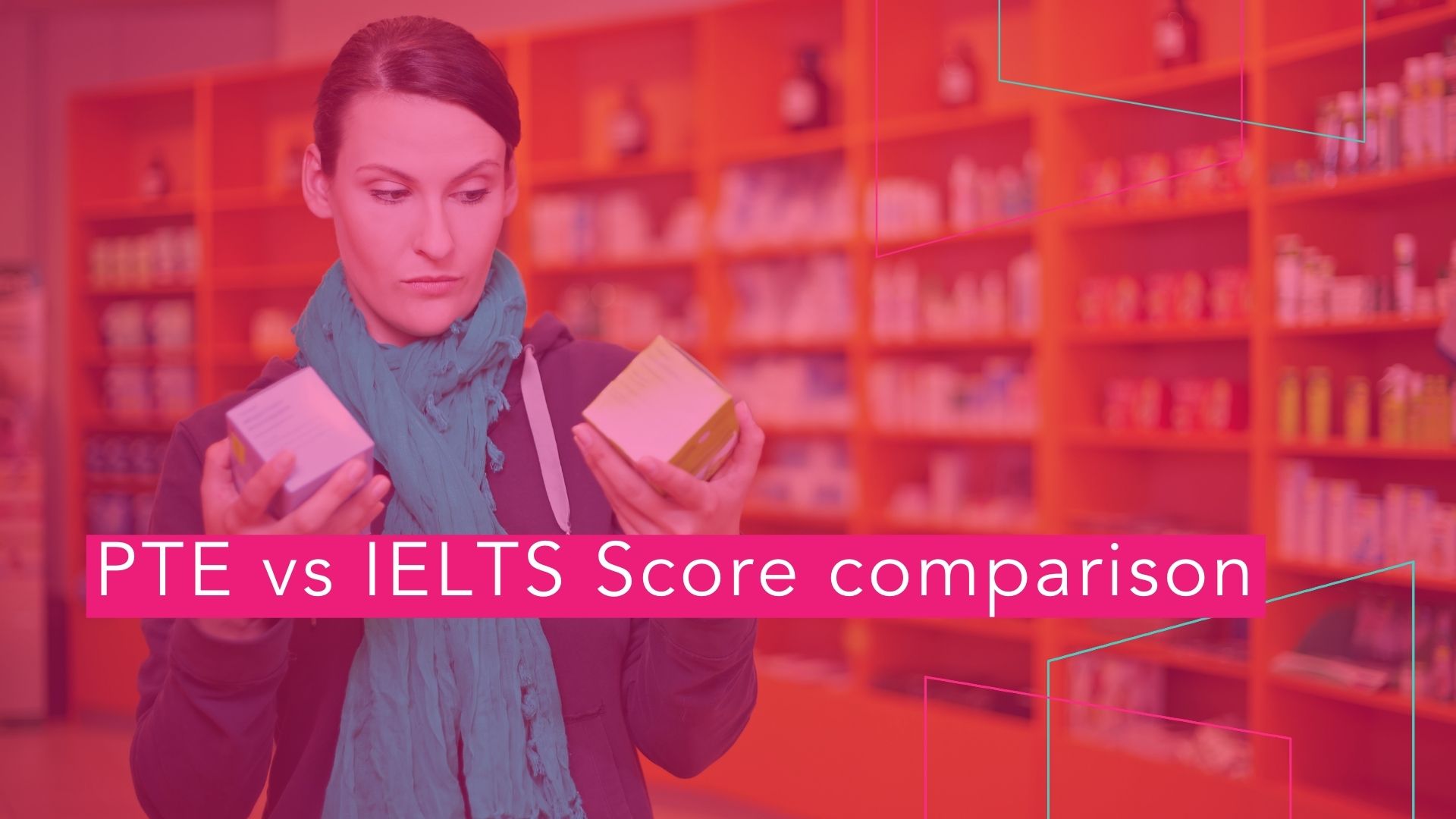 Hey there, language explorers! So, you're ready to venture into the exciting world of English language proficiency tests, but you're a bit confused about PTE and IELTS scores?
No worries, we've got your back. Today, we're checking how these scores compare in an easy-to-understand way.
Key Differences Between IELTS and PTE Exams
When comparing IELTS and PTE exams, important distinctions emerge.

PTE Academic is a 2-hour computer-based test, whereas IELTS takes 2 hours and 45 minutes in paper-based or computer-based formats. PTE's scoring fairness is notable, as it employs 100% computer-based correction, eliminating potential human bias.
In contrast, while IELTS Reading and Listening sections use computer grading, Writing and Speaking rely on trained Examiners.


Scoring Scales: IELTS vs. PTE
When it comes to scoring, IELTS employs a 9-band scale, ranging from 1 (lowest) to 9 (highest) to assess proficiency. On the other hand, PTE utilizes a scoring system of 10-90, with 10 representing the lowest and 90 reflecting the highest achievement.
Comparing Scoring Systems: IELTS vs. PTE

In the vast online realm, you can find various scoring comparisons between these two exams. However, today we will delve into two specific ones:
The first way is to compare scores officially recognized by PTE and IELTS. The second way is to look at how scores relate to Australian immigration, which is important for getting a visa.
Official Comparison: PTE vs IELTS
The official comparison between PTE and IELTS scores serves as a reference point for individuals aiming to understand how their performance translates between these two tests. The scores below reflect the corresponding proficiency levels between the two tests:
PTE (First) x IELTS (Second)
23 – 4.5

29 – 5.0

36 – 5.5

46 – 6.0

56 – 6.5

66 – 7.0

76 – 7.5

84 – 8.0

89 – 8.5

N/A – 9.0
As your scores go up, your English skills get better, and this opens up more chances for you. It's important to remember that the relationship between scores and opportunities isn't always a straight line. Even small score differences can make a big difference in your eligibility for specific programs or visas.
Australian Immigration Comparison
For individuals considering immigration to Australia, the English language proficiency requirement is a critical factor. The Australian Department of Home Affairs recognizes both PTE and IELTS scores for visa applications, allowing applicants to demonstrate their language skills using either test.
The Australian immigration comparison is as follows:
PTE (First) x IELTS (Second)
Functional English: 23 – 4.5

Vocational English: 36 – 5.0

Competent English: 50 – 6.0

Proficient English: 65 – 7.0

Superior English: 79 – 8.0
The corresponding proficiency levels are categorized based on the requirements for different types of visas. Whether you are applying for a work visa, skilled migration, or permanent residency, achieving the stipulated English proficiency level is crucial to your application's success.
Choosing the Right Test and Achieving Your Desired Score
When it comes to selecting the perfect English proficiency test, PTE Academic shines as a fantastic choice. You don't need to be an English master to achieve a great score. Unlike some other tests, PTE Academic offers a more accessible path to success.
Before making your decision, weigh your options carefully. Think about your own strengths and the institutions you're eyeing for your future. Both PTE Academic and IELTS have their own advantages, so get to know their formats and requirements to make the right choice.

Elevate Your PTE Performance
If you're planning on attempting the PTE exam, it's highly recommended to register for a preparation program to enhance your likelihood of achieving your goals. Here at PTE Smart, we've developed three diverse courses to cater to the unique requirements of our students. Take a look and commence your preparation journey today!